Churchill's Bomb
Farewell Bohr's hierophant
Finn Aaserud, former Director of the Neils Bohr Archive
Finn Aaserud has done more than anyone in the past fifty years to illuminate the memory of the most revered Danish theoretical physicist of the twentieth century. Following Finn's recent retirement, dozens of colleagues and peers gathered on Monday afternoon last week to thank him for his great service and to wish him well for the future.
Copenhagen, Denmark
Graham will be talking at the event celebrating the achievement of the recently-retired former director of the Niels Bohr Archive, Finn Aaserud
The Truth About Churchill and the Aliens
The recent global news story about Winston Churchill's allegedly 'lost' text about alien life forms is the subject of a prominent article in the Cambridge Independent.
Graham Farmelo, Churchill College, University of Cambridge, Storey's Way, Cambridge. Picture: Keith Heppell
The Churchill-science discovery that wasn't
Churchill's interests in science have been all over the media this past week. This has followed the claim in the leading science journal Nature that Mario Livio had discovered a 'lost' article by Winston Churchill on the possible existence of alien life.
Photograph: Guardian/Daily Mail/REX/Shutterstock
Cambridge, UK
At Churchill College, Cambridge, Graham will be talking with historian Kevin Ruane, author of the excellent new book Churchill and the Bomb, in a conversation moderated by Helen Anne Curry. The event will take place in the Wolfson Lecture Theatre.
What was Churchill's Role in Developing the Bomb?
Churchill and Nuclear Weapons: From the A-Bomb to the H-Bomb
15 November 2016, 5:30pm
Graham will be discussing Churchill and the Bomb with historian Kevin Ruane in a public event at Churchill College, Cambridge, on 15 November, with the conversation moderated by the historian of science, Helen Anne Curry. The event is free.
Cambridge, UK
Graham will give a lecture on 'Churchill's Bomb' at Churchill's College, Cambridge, as part of the lecture programme for the Cambridge Society for the Application of Research (CSAR). Details available here.
Defence Academy, Shrivenham, UK
Graham will give the 2016 Burns Lecture, 'Winston Churchill – a nuclear pioneer?' to the UK Defence Academy's historical society. Details available here. (PDF) If you do not have a PDF Reader installed on your computer you can get one here: Adobe Reader or Foxit Reader
70 years after Hiroshima
The Daily Telegraph published this article by Graham today, seventy years after the first use of a nuclear weapon.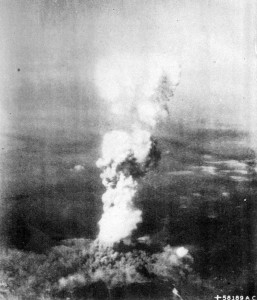 The Atomic Bomb Explosion over Hiroshima. Photo: US Army
Churchill's Bomb on BBC Radio
Graham's latest book will be featured in two BBC Radio documentaries this week.