Downtime
Books, articles, podcasts, TV, radio, movies that Graham has recently enjoyed
Reading
Notes to Self by Emilie Pine
Live a Little by Howard Jacobson
Destined for War: Can America and China Escape Thucydides's Trap? by Graham Allison
Speak, Memory by Vladimir Nabakov
Just the Funny Parts by Nell Scovell
Trinity by Frank Close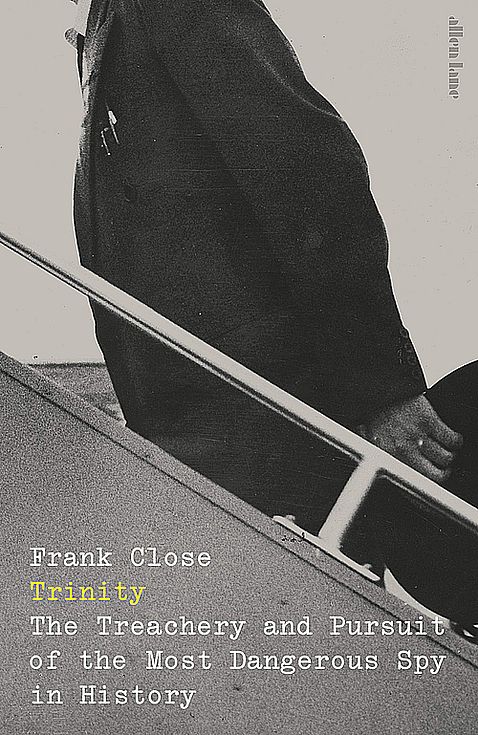 Listening
Favourite recent podcast discoveries:
Brexit: a Love Story? presented by Mark Mardell (BBC), Something Rhymes With Purple featuring Susie Dent and Giles Brandreth (Somethin' Else)
Loved pianist Rachel Cheung's concert at the Princeton Music Festival, especially her performance of Schubert's sonata D.960
Among the great BBC Proms concerts this summer, I've especially liked the National Youth Orchestra of the USA's performance of Berlioz's Les Nuits d'été and Strauss's Alpine Symphony conducted by Antonio Pappano.
Seeing
Toulouse-Lautrec and the Stars of Paris at the Museum of Fine Arts, Boston, is a delight (as was their show Frida Kahlo and Arte Popular)
Stanley Kubrick; The Exhibition is a real treat for devotees of the great director, if a tad uncritical.
Enjoyed Tarantino's well-crafted but overblown Once Upon a Time in Hollywood and Lulu Wang's sweet and touching The Farewell
The current London productions of Rosmersholm (at Duke of York's) and Death of a Salesman (at The Young Vic) are excellent, as is the National Theatre's Small Island.
Loved the final series of Veep. The first episode of the series is an authentic comedy classic.
Remembering the favourites of last year
10 favourite books of 2018
'Debussy', Stephen Walsh
'Democracy Hacked', Martin Moore
'Dramatic Exchanges', Daniel Rosenthal (ed.)
'Fire and Fury', Michael Woolf
'How Democracies Die', Steven Levitsky and Daniel Ziblatt
'Maker of Patterns', Freeman Dyson
'Milkman', Anna Burns
'On the Future', Martin Rees
Third Thoughts', Steven Weinberg
'Thomas Cromwell: a Life', Diarmaid MacCulloch
Book of the Year: 'Maker of Patterns', by Freeman Dyson
10 favourite movies of 2018
'BlacKkKlansman', dir. Spike Lee
'Cold War', dir. Pawel Pawlikowski
'First Reformed', dir. Paul Schrader
'Phantom Thread', dir. Paul Thomas Anderson
'Roma', dir. Alfonso Cuarón
'Shoplifters', dir. Hirokazu Kore-eda
'A Star is Born', dir. Bradley Cooper
'Three Billboards Outside Ebbing, Missouri', dir. Martin McDonagh
'Wildlife', dir. Paul Dano
'You Were Never Really There', dir. Lynne Ramsay
Movie of the Year: 'Phantom Thread', directed by Paul Thomas Anderson
10 favourite podcasts of 2018
'The Allusionist', Helen Zaltzman
'The Daily', Michael Barbaro, New York Times
'Coffee House Shots', Fraser Nelson et al, The Spectator
'For the Many', Iain Dale and Jacqui Smith, LBC
'Fortunately…', Fi Glover and Jane Garvey, BBC
'How to Invent a Country', Misha Glenny, BBC
'Pod Save America', Jon Lovett, Tommy Vietor and Jon Favreau, Crooked Media
'Talking Politics', David Runciman, London Review of Books
'Two Shot Podcast', Craig Parkinson
'Why is This Happening?', Chris Hayes
Podcast of the Year: 'For the Many' – Iain Dale and Jacqui Smith
10 favourite theatre productions of 2018
'Antony and Cleopatra', National Theatre
'Company', Marianne Elliott company, London
'Everybody's Talking About Jamie', Apollo Theatre, London
'The Ferryman', Royal Court production, dir. Sam Mendes
'Hamilton', London production
'Lehman Trilogy', National Theatre
'Macbeth', Globe Theatre
'Network', National Theatre
'Pinter at the Pinter Theatre', dir. Jamie Lloyd
'Summer and Smoke', Almeida Theatre
Theatre production of the year: 'Antony and Cleopatra', National Theatre
10 favourite TV programmes of 2018
'A Dangerous Dynasty: House of Assad' (BBC)
'Cunk on Britain' (BBC)
'Dynasties' (BBC)
'Grenfell' (BBC)
'Informer' (BBC)
'Killing Eve' (BBC)
'King Lear' (BBC)
'The Little Drummer Girl' (BBC)
'Mum' (BBC)
'Stephen – The Murder That Changed a Country' (BBC)
'A Very English Scandal' (BBC)
TV series of the year: 'Informer' (BBC)
10 favourite exhibitions of 2018
'All Too Human – Bacon, Freud and a century of painting', Tate Britain
'Andy Warhol – from A to B and back', Whitney Museum of American Art, NYC
'Charles I – King and collector', Royal Academy of Art, London
'The Charterhouse of Bruges', Frick, NYC
'Edward Burne-Jones', Tate Britain, London
'Fashioned From Nature', V&A, London
'It's Alive! Frankenstein at 200', Morgan Library and Museum, NYC
'Mantegna and Bellini', National Gallery, London
'Monet and Architecture', National Gallery, London
'Picasso 1932', Tate Modern, London
Exhibition of the year: 'Charles I – King and collector' at the Royal Academy of Art
Back
to Top