News
'The Universe Speaks in Numbers' to be published in May 2019
Graham's publishers in the UK, Faber, announced last Friday that they will be publishing his next book in early May 2019. Basic Books will publish it a few weeks later in the U.S. and Canada. Graham said: 'It will be good to see the book in the stores, five years after I conceived it.'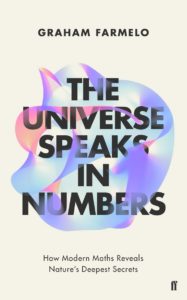 The Strangest Man in Orkney
Dirac performed onstage last week at the Orkney Science Festival, played by the actor and former physicist David Sumner.
RIP Stephen Hawking
Stephen Hawking was one of the greatest experts on gravity and cosmology of the twentieth century. Graham met him (over lunch) three times but never spoke to him – the awe was too great. But in the 1970s Graham did once come close to putting him in hospital ……
Farewell Bohr's hierophant
Finn Aaserud has done more than anyone in the past fifty years to illuminate the memory of the most revered Danish theoretical physicist of the twentieth century. Following Finn's recent retirement, dozens of colleagues and peers gathered on Monday afternoon last week to thank him for his great service and to wish him well for the future.
RIP a great Diracian
'He was probably the most influential person of my life', Graham said during his remarks at the funeral of the quantum mechanic John Bendall this week (Order of Service (PDF)). Bendall was the mathematical physicist who first introduced the fourteen-year-old Graham to the work of Paul Dirac, as Graham described in The Strangest Man (page 420).
'If I had to pick one event that changed the course of my life', Graham said, 'it was when John opened the door of his house and we began to talk.'

Pauli's 'loveless sex' on Radio 4
Graham's praise of Wolfgang Pauli's 'lovely sex' in the brothels of Hamburg has recently drawn criticism from on-line commentators. This followed the live broadcast of Radio 4's In Our Time about Pauli's Exclusion Principle, a programme that also featured the physicist Frank Close and the historian of science Michela Massimi.
The Truth About Churchill and the Aliens
The recent global news story about Winston Churchill's allegedly 'lost' text about alien life forms is the subject of a prominent article in the Cambridge Independent.
The Churchill-science discovery that wasn't
Churchill's interests in science have been all over the media this past week. This has followed the claim in the leading science journal Nature that Mario Livio had discovered a 'lost' article by Winston Churchill on the possible existence of alien life.
Dirac in Israel
Paul Dirac last visited Israel in March 1979, when he gave the talk in Jerusalem on the early years of relativity. Thirty-seven years later, Graham visited the Weizmann Institute in Rehevot to talk about the life and work of Dirac, including his visit to Israel.
'Ten Commandments' of Communicating Physics
Imperial College physicist Jess Wade has done of a brilliant job of graphically rendering Graham's Ten Commandments, which he presented yesterday at the Institute of Physics' headquarters in London.