Strangest Man
Remodelled Dirac Science Library opened at FSU
Last Thursday evening, the remodelled Dirac Science Library at Florida State University was formally opened, with Graham as guest speaker at the ceremony. The Library, first opened in 1989 by Dirac's wife Manci, now has 250 additional seats and a host of new facilities, including large wireless displays for collaborative work, a high-quality recording studio, nineteen study rooms and a spacious new Starbucks.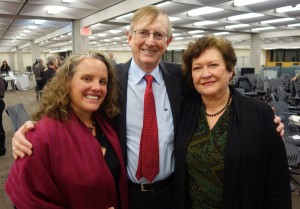 Graham with Julia Zimmerman, Dean of University Libraries at FSU (right) and Katie McCormick, Associate Dean for Special Collections and Archives (left)
Florida State University
Graham is the guest speaker at of opening of the refurbished Dirac Science Library.
A Dirac returns to Caltech
Dirac's younger daughter Monica visited Caltech as the guest of the physics department, sixty nine years after her father paid his momentous visit to the institution.
Monica Dirac with Graham at Caltech's Athenaeum
Caltech
Graham will be giving a colloquium 'Paul Dirac – the theorist's theorist' Details can be found here.
Saginaw Valley State University, Michigan
During his visit to Saginaw Valley State University, Michigan, Graham will be giving a talk on Paul Dirac and the Religion of Mathematical Beauty, 22 October, 4pm. The following day, he will be giving the O'Neill memorial lecture, Winston Churchill – Writer, Global Political Figure, Nuclear Visionary, at 7pm. Details can be found here.
Fermilab
Graham will be talking about the life and work of Paul Dirac. Details will be published here.
The Strangest Man published in Turkish
Graham's biography of Dirac has now been published in Turkish.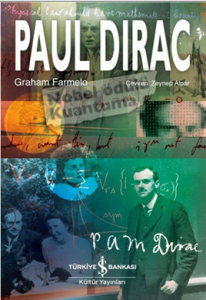 The cleric who wanted Dirac kept out of Westminster Abbey
The struggle to have Dirac commemorated in Westminster Abbey lasted several years, as Graham describes in The Strangest Man. According to the late physicist Dick Dalitz, who led the group that campaigned for the commemoration, the main obstacle was the Dean of Westminster, who objected that Dirac had been a 'militant atheist'. …
Michael Mayne, Dean of Westminster Abbey (1986-1996)
Dirac's Quantum interviews now online
Dirac's recollections of the history of quantum theory, given in five interviews with Thomas Kuhn and Eugene Wigner in 1962-3, are now available online.
1962, Yeshiva University
The Dirac family – by a friendly neighbour in Cambridge
New insights into the extraordinary Dirac family emerge in a remarkable letter by Rosemary McGregor-Wood, who lived directly opposite them in Cavendish Avenue.

Dirac family in c. 1946