The Strangest Man in Aldeburgh
At last weekend's Aldeburgh Literary Festival, Graham talked onstage about his biography of Paul Dirac with journalist Robert Butler.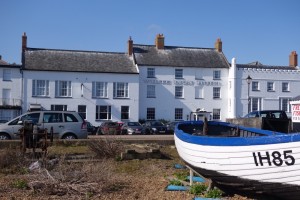 During the sold-out event, the conversation ranged widely over the life of the great theoretician, the writing of the book and its reception in the UK and US. Afterwards there were many questions from the audience, which included several other speakers at the Festival, notably the drama critic John Lahr and Helena Attlee, author of the wonderful The Land Where Lemons Grow. Afterwards, Graham signed so many copies of The Strangest Man that the bookstore ran out of copies.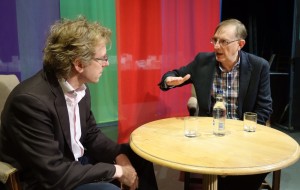 The first speaker on Saturday was the journalist and historian Sir Max Hastings, who spoke brilliantly about the need to rethink our attitude to the First World War. In the evening, Graham talked with Max, who reviewed Churchill's Bomb generously in The Sunday Times, and Mary James, co-owner of The Aldeburgh Bookshop, winner of the independent bookshop of the year at the National Book Awards.
| | |
| --- | --- |
| | |
| Sir Max Hastings | Dinner with Sir Max Hastings and (on his left) Mary James |
Graham found himself agreeing with the great satirist Craig Brown, who has called this Literary Festival the best in Britain.