Archive for March, 2014
Dirac's Quantum interviews now online
Dirac's recollections of the history of quantum theory, given in five interviews with Thomas Kuhn and Eugene Wigner in 1962-3, are now available online.
1962, Yeshiva University
HG Wells – a hundred years since he coined 'atomic bombs'
Graham and Wells' biographer Michael Sherborne talk with the Guardian's literary editor Claire Armitstead about the 1914 novel The World Set Free, which introduced 'atomic bombs' and the concept of a catastrophic nuclear war.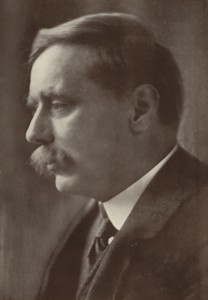 HG Wells, April 1914
Nobel interview in Belgium
Today Graham interviewed Baron François Englert, winner with Peter Higgs of the 2013 Nobel Prize in physics, at the opening session of the Science Centre World Summit in Mechelen, Belgium.