News
What was Churchill's Role in Developing the Bomb?
Churchill and Nuclear Weapons: From the A-Bomb to the H-Bomb
15 November 2016, 5:30pm
Graham will be discussing Churchill and the Bomb with historian Kevin Ruane in a public event at Churchill College, Cambridge, on 15 November, with the conversation moderated by the historian of science, Helen Anne Curry. The event is free.
Physics's Fallible Pope
The science journal Nature has now published Graham's review of the new biography of Enrico Fermi by Gino Segrè and Bettina Hoerlin.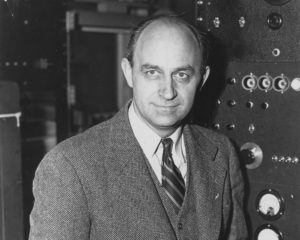 Enrico Fermi
Graham says: 'this piece contains an anecdote given to me by Fermi's daughter Nella when we were discussing him on the phone, in connection with a lecture-play that I was preparing some twenty years ago. So far as I know, it's the only story about him that features his fascination with Silly Putty.'
'The Strangest Man' published in German
Graham's biography of the theoretical physicist Paul Dirac has been published in German, with a specially-written foreword that focuses on Dirac's relationship with Germany and its language. Graham says: 'I am delighted that the book has been published by Springer in Germany, and hope the translation will make my account of Dirac's life accessible to new audiences.' The publication of this new edition, widely welcomed, is due in large part to the initiative of the physicist Ali Sanayei, at the University of Hamburg..
Ali reflects on why he wanted to see the book published in German, Dirac's third language.
Remembering Harry Kroto
The chemist Harry Kroto, co-discoverer of buckminsterfullerene, died in East Sussex on 30 April and his funeral took place on 19 May. Graham knew Harry well, and remembers fondly a fine chemist, an inspirational communicator, and a good friend.
Blackett and Beckett lived here
48 Paultons Square, Chelsea, London, was home to the experimental physicist Patrick Blackett and to the playwright Samuel Blackett, albeit at different times. Recently, English Heritage agreed that their residency should be marked by blue plaques, and Graham was invited to speak at the unveiling on the life of Blackett, though he also could not resist praising the achievement of Beckett, one of his favourite playwrights.
Astronomer Sir Arnold Wolfendale and actress Penelope Wilton unveil the Blackett and Beckett blue plaques
Masters of Edinburgh
As part of his research for his next book, Graham spent last Friday in Edinburgh talking with the Fields-Medal winning mathematician Sir Michael Atiyah and the Nobel-winning physicist Sir Peter Higgs.
At the Perimeter
p>Graham spent the past week at the Perimeter Institute for Theoretical Physics in Canada, as a guest of its Director Neil Turok, talking with several of its leading theoreticians. This was part of Graham's research for his forthcoming book on the relationship between mathematics and fundamental physics, which Einstein called 'miraculous'. For Paul Dirac, theoreticians who work on fundamental physics should regard mathematical beauty as their lodestar.
Why trust a theory?
In Munich last week, physicists, philosophers, historians and others gathered to debate the question Why Trust a Theory?

Poster
Beautiful Equations
Jim Al-Khalil's entertaining Radio 4 programme The Beauty of Equations is now available on BBC iPlayer Radio.

Left to right, producer Deborah Cohen, Graham and presenter Jim Al-Khalili
Genius player
On Wednesday, Graham realised a long-held ambition to meet John Conway, one of the most innovative mathematicians of the past few decades.
John Conway – drawn by Simon J. Fraser (1973)
Inventor of 'The Game of Life', surreal numbers and ideas that have found applications in theoretical physics, Conway is a unique figure. Now emeritus professor at Princeton University, he is currently visiting the UK, and has given a special lecture at Cambridge. Graham arranged for him to give an interview in London with The Guardian's Ian Sample, available as a podcast.