News
RIP a great Diracian
'He was probably the most influential person of my life', Graham said during his remarks at the funeral of the quantum mechanic John Bendall this week (Order of Service (PDF)). Bendall was the mathematical physicist who first introduced the fourteen-year-old Graham to the work of Paul Dirac, as Graham described in The Strangest Man (page 420).
'If I had to pick one event that changed the course of my life', Graham said, 'it was when John opened the door of his house and we began to talk.'

Pauli's 'loveless sex' on Radio 4
Graham's praise of Wolfgang Pauli's 'lovely sex' in the brothels of Hamburg has recently drawn criticism from on-line commentators. This followed the live broadcast of Radio 4's In Our Time about Pauli's Exclusion Principle, a programme that also featured the physicist Frank Close and the historian of science Michela Massimi.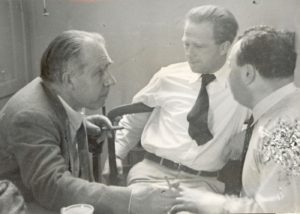 Wolfgang Pauli (RHS) with Werner Heisenberg (centre) and Niels Bohr (LHS) c. 1938
The Truth About Churchill and the Aliens
The recent global news story about Winston Churchill's allegedly 'lost' text about alien life forms is the subject of a prominent article in the Cambridge Independent.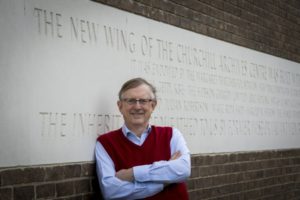 Graham Farmelo, Churchill College, University of Cambridge, Storey's Way, Cambridge. Picture: Keith Heppell
The Churchill-science discovery that wasn't
Churchill's interests in science have been all over the media this past week. This has followed the claim in the leading science journal Nature that Mario Livio had discovered a 'lost' article by Winston Churchill on the possible existence of alien life.
Photograph: Guardian/Daily Mail/REX/Shutterstock
Dirac in Israel
Paul Dirac last visited Israel in March 1979, when he gave the talk in Jerusalem on the early years of relativity. Thirty-seven years later, Graham visited the Weizmann Institute in Rehevot to talk about the life and work of Dirac, including his visit to Israel.
Dirac during his visit to Jerusalem in March 1979, to give a talk as part of the Einstein centenary celebrations.
'Ten Commandments' of Communicating Physics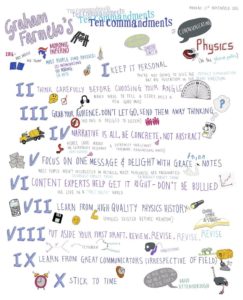 Imperial College physicist Jess Wade has done of a brilliant job of graphically rendering Graham's Ten Commandments, which he presented yesterday at the Institute of Physics' headquarters in London.
What was Churchill's Role in Developing the Bomb?
Churchill and Nuclear Weapons: From the A-Bomb to the H-Bomb
15 November 2016, 5:30pm
Graham will be discussing Churchill and the Bomb with historian Kevin Ruane in a public event at Churchill College, Cambridge, on 15 November, with the conversation moderated by the historian of science, Helen Anne Curry. The event is free.
Physics's Fallible Pope
The science journal Nature has now published Graham's review of the new biography of Enrico Fermi by Gino Segrè and Bettina Hoerlin.
Enrico Fermi
Graham says: 'this piece contains an anecdote given to me by Fermi's daughter Nella when we were discussing him on the phone, in connection with a lecture-play that I was preparing some twenty years ago. So far as I know, it's the only story about him that features his fascination with Silly Putty.'
'The Strangest Man' published in German
Graham's biography of the theoretical physicist Paul Dirac has been published in German, with a specially-written foreword that focuses on Dirac's relationship with Germany and its language. Graham says: 'I am delighted that the book has been published by Springer in Germany, and hope the translation will make my account of Dirac's life accessible to new audiences.' The publication of this new edition, widely welcomed, is due in large part to the initiative of the physicist Ali Sanayei, at the University of Hamburg..
Ali reflects on why he wanted to see the book published in German, Dirac's third language.
Remembering Harry Kroto
The chemist Harry Kroto, co-discoverer of buckminsterfullerene, died in East Sussex on 30 April and his funeral took place on 19 May. Graham knew Harry well, and remembers fondly a fine chemist, an inspirational communicator, and a good friend.