Other
Genius player
On Wednesday, Graham realised a long-held ambition to meet John Conway, one of the most innovative mathematicians of the past few decades.
John Conway – drawn by Simon J. Fraser (1973)
Inventor of 'The Game of Life', surreal numbers and ideas that have found applications in theoretical physics, Conway is a unique figure. Now emeritus professor at Princeton University, he is currently visiting the UK, and has given a special lecture at Cambridge. Graham arranged for him to give an interview in London with The Guardian's Ian Sample, available as a podcast.
Neurotribesman
Graham this week realised a long-held ambition of meeting one of the few heroes of social media, Steve Silberman, once described by Graham as the 'Roger Federer of Tweeting'. Long a prominent journalist, @stevesilberman is an authentic star of Twitter and has recently published NeuroTribes, his new perspective on autism, currently riding high in the New York Times best-sellers list. Recently, the book was long-listed for this year's Samuel Johnson Prize for non-fiction.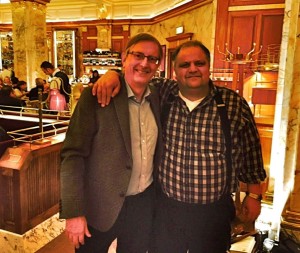 Steve Silberman (RHS) with Graham in London
70 years after Hiroshima
The Daily Telegraph published this article by Graham today, seventy years after the first use of a nuclear weapon.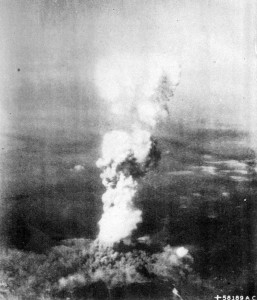 The Atomic Bomb Explosion over Hiroshima. Photo: US Army
Is nature a work of art?
In today's Guardian, Graham reviews A Beautiful Question, the latest book by the great American theoretical physicist Frank Wilczek, based at the Massachusetts Institute of Technology.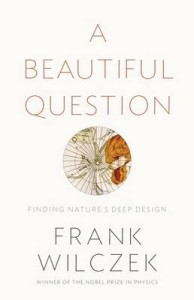 Kavli's writer in residence
Graham has recently left the Kavli Institute for Theoretical Physics at University of California having spent the past six weeks as its writer in residence. He was able to attend the workshops on quantum gravity and quantum entanglement, and to interview several physicists, including Nobel prize winner David Gross, Breakthrough Prize winner Juan Maldacena, Eva Silverstein and Steve Giddings.
Kavli Institute for Theoretical Physics, University of California at Santa Barbara
Saturday reviewer
In this week's Saturday Review on BBC Radio 4, chaired by Tom Sutcliffe, Graham joined sociologist Tiffany Jenkins and critic Michael Arditti as guest reviewers. They discussed Xavier Dolan's new movie Mommy, the Park Theatre's production of Frozen, Channel 4's docudrama Coalition, Sara Taylor's novel The Shore and the Richard Diebenkorn exhibition at the Royal Academy.

Tom Sutcliffe, presenter BBC Radio 4 Saturday Review
Was physicist Bruno Pontecorvo a spy?
Last night at the Royal Institution in London's Piccadilly, Frank Close talked about his new book Half Life – the divided life of Bruno Pontecorvo, with Graham as MC.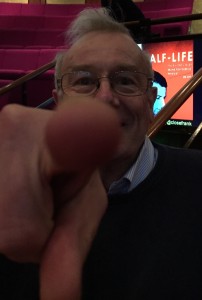 Frank Close at the Royal Institution
Royal Institution, London
Frank Close will be talking about his new book Half Life, about the physicist (and spy?) Bruno Pontecorvo: details under, What's On, The Royal Institution. Graham will be chairing the event.
Radio 4, UK
Graham will be one of the critics on this week's 'Saturday Review' on Radio 4 (later on iPlayer). Details will be available here.
'Wittgenstein and Physics'
The first one-day conference in series organised by the St Cross Centre for the History and Philosophy of Physics, Wittgenstein and Physics, took place in Oxford yesterday. Organised by Jo Ashbourn, it was a hugely successful event, highlighting many of Wittgenstein's important contributions to thinking about the nature of physics.
Left to right: Harvey Brown (philosopher of physics, Oxford University), Rupert Read (philosopher, East Anglia University), Graham, Chon Tejedor (philosopher, Hertfordshire University), Richard Staley (philosopher and historian, Cambridge University), Jo Ashbourn (physicist, Oxford University)