Archive for October, 2016
What was Churchill's Role in Developing the Bomb?
Churchill and Nuclear Weapons: From the A-Bomb to the H-Bomb
15 November 2016, 5:30pm
Graham will be discussing Churchill and the Bomb with historian Kevin Ruane in a public event at Churchill College, Cambridge, on 15 November, with the conversation moderated by the historian of science, Helen Anne Curry. The event is free.
Physics's Fallible Pope
The science journal Nature has now published Graham's review of the new biography of Enrico Fermi by Gino Segrè and Bettina Hoerlin.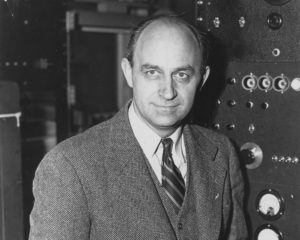 Enrico Fermi
Graham says: 'this piece contains an anecdote given to me by Fermi's daughter Nella when we were discussing him on the phone, in connection with a lecture-play that I was preparing some twenty years ago. So far as I know, it's the only story about him that features his fascination with Silly Putty.'
'The Strangest Man' published in German
Graham's biography of the theoretical physicist Paul Dirac has been published in German, with a specially-written foreword that focuses on Dirac's relationship with Germany and its language. Graham says: 'I am delighted that the book has been published by Springer in Germany, and hope the translation will make my account of Dirac's life accessible to new audiences.' The publication of this new edition, widely welcomed, is due in large part to the initiative of the physicist Ali Sanayei, at the University of Hamburg..
Ali reflects on why he wanted to see the book published in German, Dirac's third language.
Newcastle, UK
Graham will be talking onstage with Peter Higgs about the Nobel laureate's life, the development of the Standard Model and his thoughts on the future of fundamental physics. More information.