Archive for February, 2015
Royal Institution, London
Frank Close will be talking about his new book Half Life, about the physicist (and spy?) Bruno Pontecorvo: details under, What's On, The Royal Institution. Graham will be chairing the event.
Aldeburgh, UK
Graham will be talking about The Strangest Man at the famous literary festival. Details to come here.
Cambridge, UK
At the Cambridge Science Festival, Graham will be in the 'Meet the Author' panel, organised by the Cambridge Society for the Application of Research (CSAR). Details will be available here.
Radio 4, UK
Graham will be one of the critics on this week's 'Saturday Review' on Radio 4 (later on iPlayer). Details will be available here.
Remodelled Dirac Science Library opened at FSU
Last Thursday evening, the remodelled Dirac Science Library at Florida State University was formally opened, with Graham as guest speaker at the ceremony. The Library, first opened in 1989 by Dirac's wife Manci, now has 250 additional seats and a host of new facilities, including large wireless displays for collaborative work, a high-quality recording studio, nineteen study rooms and a spacious new Starbucks.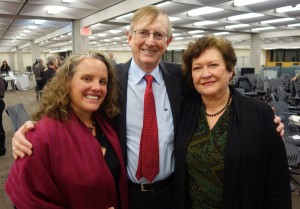 Graham with Julia Zimmerman, Dean of University Libraries at FSU (right) and Katie McCormick, Associate Dean for Special Collections and Archives (left)
Florida State University
Graham is the guest speaker at of opening of the refurbished Dirac Science Library.